Stolen from limedragon: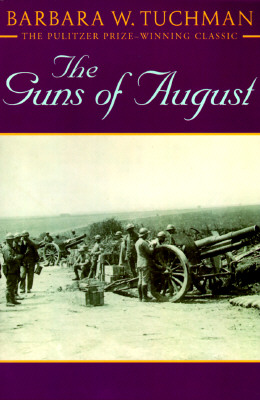 You're The Guns of August!
by Barbara Tuchman
Though you're interested in war, what you really want to know is what causes war. You're out to expose imperialism, militarism, and nationalism for what they really are. Nevertheless, you're always living in the past and have a hard time dealing with what's going on today. You're also far more focused on Europe than anywhere else in the world. A fitting motto for you might be "Guns do kill, but so can diplomats."
Take the Book Quiz at the Blue Pyramid.
Hmm. That sounds sort of like me. Except for the interest in war, imperialism, militarism and interest in Europe. It is however, a great title. And calendar appropriate!
Wow. In no way is that yarn that blindingly bright. It's a lovely muted red in Rowan Wool Cotton and the pattern is Elizabeth I from Tudor Roses. (Golden Gate is on a time out.) I took it with me when I went with my mother for her temporal artery biopsy (she has, presumably, temporal arteritis) but because she's on Plavix for her stents last May, predisone for the temporal arteritis for the last 3 weeks and the surgeon didn't think the biopsy was all that conclusive to begin with, she didn't have the biopsy. I'm happy about that. I was worried, as I could clearly see when I got home and realized that my gauge tightened up considerably while we were in the waiting room. Hopefully it's not going to skew the piece because I am not reknitting it.
Yet.
There was a widely bruited-about statistic reported last week, stating that 1 in 4 Americans did not read a single book last year. Clearly, we don't fall into that category, but . . . how many of our friends do? Do you have friends/family who read as much as you do? Or are you the only person you know who has a serious reading habit?
Hmm. One of my girlfriends will read anything anyone gives her - she apologizes that it's fluff, but considering her life, she needs the fluff. My brother & sister in law probably read more than I do. My parents read (my dad has his books stashed in the medicine cabinet). I think most read at least one book last year, if not considerably more.
Look what I won from Bridget!
---