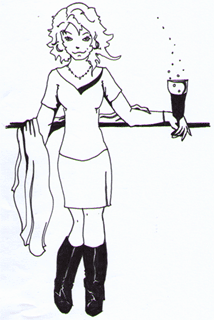 The entertaining and friendly type. They are especially attuned to pleasure and beauty and like to fill their surroundings with soft fabrics, bright colors and sweet smells. They live in the present moment and don´t like to plan ahead - they are always in risk of exhausting themselves.

The enjoy work that makes them able to help other people in a concrete and visible way. They tend to avoid conflicts and rarely initiate confrontation - qualities that can make it hard for them in management positions.
Oh absolutely. I'm always at risk of exhausting myself. Avoiding conflicts. Yes, that's exactly right. When I'm not gently guiding the force and serving as a champion of the light.
Speaking of mindless public knitting
, I needed a smaller (more discreet) project to knit at a function than the Curve of Pursuit was getting to be (BIG), so I pulled out the Veronica yarn from
Dizzy Blonde Studios
 and started (again)
The Basic Black Shawl
from Cheryl Oberle's
Folk Shawls
. This is my approximately 18th thousand attempt at this shawl, for some reason, the yarn is either too thick, too thin, too ......something. Hopefully Veronica is just right.
She certainly was just right to fit in my purse and get toted along all day. The picture doesn't do much justice to the pattern but it does display the colors pretty well.
TV has been a vast disappointment to me lately. Now that I know My Own Worst Enemy has been cancelled, I can't bring myself to stay up and watch the last few episodes. On the Sarah Connor Chronicles, Jon Connor continues to be a doofus and evidently no one around him is actually from his own time or human. How bad is it when I just can't wait for the machines to rise and take them all out?
Heroes is confusing. Am I to understand correctly that they intend on bringing more new people in next year?
What's good........well, NCIS, of course. I still like The Mentalist even though the plot leaps were fairly enormous last night. Bones tonight on Fox, Life at 9pm oon NBC and the season finale of Sons of Anarchy tonight (Wednesday 11/26)at 10pm.
24
on Fox sunday - athough doofus that I am, I missed the beginning episode. Luckily, it's showing online. But mostly I've been reading. It's that time of year!